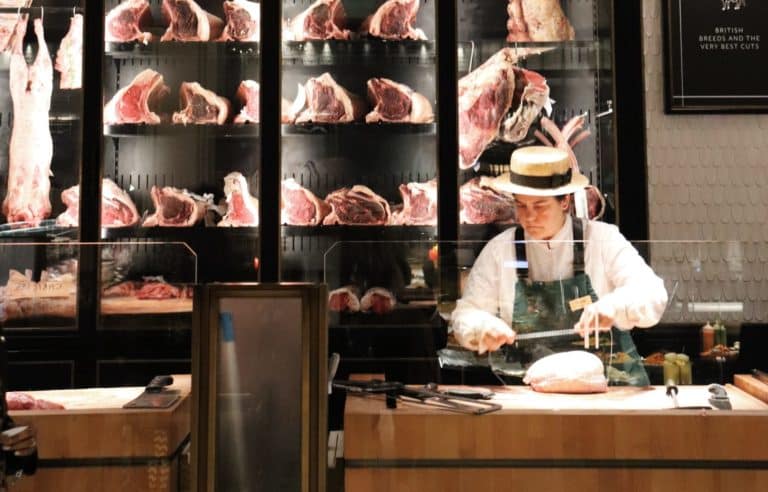 As a supplier of robust, cardboard meat boxes for butchers, we wanted to understand how local butchers are responding to the shift towards plant-based meat alternatives.
Cardboard Meat Packaging for Butchers
Our strength, energy, immunity and body functions are dependent on a nutritionally rich and balanced diet. We know that meat is a natural source of protein as well as essential vitamins and minerals. It has been part of the human diet since early man walked the earth.
Concerns about environmental sustainability, ethics and what we are consuming has led to an increase in people cutting down on the amount of meat they purchase. Many families are choosing to eat a vegetarian meal more often, however research from the Food Standards Agency reveals that 90% of the UK population still eats meat regularly.
Pure cuts of meat are nutritious and tasty. What we need to cut down on is processed meat which isn't so good for our health and can't be easily traced back through the supply chain.
The Demand for Meat Boxes
Consumer concern for the environment and ethics is not necessarily a bad thing for butchers. This interest in where our food comes from is something that many butchers have endorsed for decades.
Unlike mass-produced and processed meats found on supermarket shelves, most butchers know the farms where their meat is sourced. Many opt for locally-reared meat, where they can be assured that animal welfare is a priority. They can also work with smaller farms that provide specialist meats including Dexter beef and Salt Marsh lamb.
Butchers are reporting that although the quantity of meat being purchased may be reducing, the demand for quality cuts and specialist meats is on the rise. Knowing where the meat is sourced is a selling point. Despite the growing range of plant-based alternatives, the demand for quality meat boxes is on the rise.
In response to this growing interest in traceability and taste, a recent article in the Independent shared a review of the Best Ethically-sourced Meat Boxes UK. Visiting your local butcher or farmer's market will provide you with options of meat that has grazed and foraged in your neighbouring countryside.
Meat Boxes for Butchers
For quality meat, you need quality boxes! As a specialist in the manufacture of cardboard meat boxes, we supply local independent butchers, farm shops and delis with robust and sustainable meat packaging. Our heavy-duty meat boxes are designed with a handle for easy carrying and the base and top can be sealed without the need for glue or tape.
Our cardboard meat boxes are sustainable; produced using over 50% recycled fibres and fully biodegradable.
We can digitally print the boxes to personalise them with branding, seasonal designs, recipe ideas and more. We are currently fulfilling orders in preparation for the Easter peak and then the BBQ season will commence.
Farm to Fork Thinking
If you are concerned about the impact of meat on the environment, be sure to buy UK produce. The Food & Farming Standards that our livestock farmers adhere to are one of the highest in the world. They cover animal welfare, quality feed and meat, meat packaging and storage and even enhancing wildlife ecosystems on the land. You can read more about this on the We Eat Balanced website.
The Red Tractor and RSPCA Assured labels are used to help consumers to identify British meat in the supermarkets. Local butchers will be able to provide even more insight into the farm to fork process, including cooking tips. This can be especially useful for more unusual cuts of meat, encouraging us to try something new and avoid food waste.
Meat as Part of a Balanced Diet
Whilst nuts, beans and eggs provide protein, for many people, they are not a viable alternative to a perfectly cooked steak, flavoursome stew or BBQ ribs. Eating pure cuts of meat is good for our health and our values don't need to be compromised if we seek out ethically sourced, quality cuts from local butchers and farm shops. Does yours provide meat boxes?
If you are a butcher or farmer looking for a meat box supplier, UK based Barton Jones Packaging is here to meet your requirements. Get in touch with our team on 01462 680888 or [email protected]