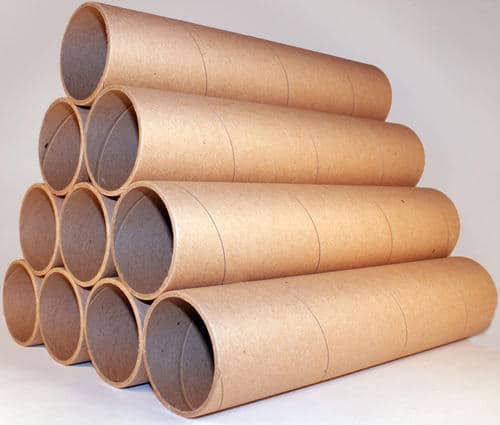 On a Roll with Postal Tubes
Cardboard boxes are often the default packaging solution, however, postal tubes can be a viable alternative for a wide range of products.
5 Benefits of Cardboard Postal Tubes
The first advantage of postal tubes is that they are strong and resilient to compression. As your package passes from courier, warehousing and delivery teams, the goods inside are protected from damage.
Cardboard postal tubes are also an eco-friendly packaging option. The tube is formed from at least 65% recycled fibres and bonded with water-based glue. There is minimal waste and excess material can be reused. The tubes are 100% recyclable at the end of use.
Cardboard tubes are a practical solution if you have cylindrical products to send. With both standard and custom sizes available, it is possible to find the best fit for your product. This reduced the volume of packaging required, removes the need for void filler and can lower shipping costs.
As most brands opt for boxes, postal tubes can be a way to help your products stand apart. To add further distinction, the brown tubes can be printed with your design. Alternatively, an outer paper layer can be applied to match your tubes with your brand colour.
The strength of cardboard tubes ensures they can be reused. To encourage this:
Include a returns label in with your delivery that can be easily applied for sending back
Use a stunning print design that makes the tubes a desirable storage item
Add images of tubes being reused for craft, construction or gardening projects on social sites
3 Disadvantages of Cylindrical Postal Tubes
Postal tubes are not ideal for all products and there are three other downsides to this packaging option.
Firstly, they are not flat packed. This does mean there is no assembly required, but if storage space is tight, this can be an issue. Secondly, tubes roll. This can cause frustrations on packaging lines and for delivery drivers. Multiple tubes are typically stored in a large box to keep them together. Finally, the ends are sealed with plastic caps. Whilst these are recyclable, many companies want to remove plastic from their packaging.
There is a solution that overcomes these barriers; triangular tubes. These are underused packaging items but they offer many practicalities. For a start, triangles are strong shapes, so they offer good protection. Triangles don't roll, can be stacked and cardboard ends are part of the design. Our triangular tubes are supplied flat pack, with a single peel-off adhesive strip for ease of assembly.
With so many advantages, we believe that triangular tubes should be used for much more than a popular Swiss chocolate brand!
What Products fit in Postal Tubes?
The obvious use for cylindrical postal tubes is for paperwork. Documents posters and maps can be rolled, not folded, so they are delivered without creases and bent corners.
They are great packaging for bottles; everything from wines and spirits to beauty and hair care products. Delicate or fragile items including lightbulbs, vases, biscuits, and spectacles can all be well protected in postal tubes.
Many of our customers use our cardboard tubes as inners for rolls of paper, fabrics and carpet. They are also widely used for sending parts, components and fixings for bikes, machinery, furniture and more.
Some brands prefer to roll, rather than fold, clothing. Socks, ties and sportswear are a few examples. Other uses include sets of pens or pencils, perfume, confectionery and toys.
How do you Ship Postal Tubes?
Royal Mail accepts postal tubes up to 90cm in length and 2kg in weight. The length of the tube plus twice the diameter must be less than 104cm. Depending on the size and weight, postal tubes are classified as large letters, small parcels and occasionally, medium parcels.
We produce cardboard tubes up to 5 meters in length and 122cm in diameter. If your requirements are greater than the Royal Mail limits, speak to your preferred courier about their charges.
Custom Postal Tubes
Barton Jones Packaging hold a range of standard brown postal tubes in stock. We are also a specialist in custom packaging. We can manufacture tubes to the exact dimensions and finish demanded by your specification. Orders for small batches or high-volume orders are no problem and stock holding is available.
Please note that we work on internal dimensions, so our range of 19mm to 1220mm diameter does not include the thickness of the cardboard.
For further information or a quote for cylindrical or triangular cardboard tubes, please contact Barton Jones Packaging on 01462 680888 or [email protected] or GET A QUOTE