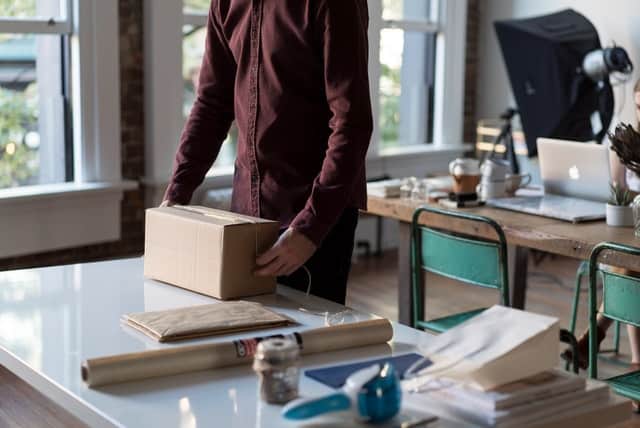 In 2021, 24,000 new UK e-commerce businesses were registered with Companies House. Each of these companies, along with the thousands that have already been launched in 2022, needs to find a packaging supplier. This article offers advice on e-commerce packaging options and some points to consider.
The Importance of E-commerce Packaging
When customers place their orders, they expect them to be delivered promptly and in pristine condition. If it has been damaged during fulfilment or delivery, they will be sending it straight back. Returns are costly to process, difficult to resell and require refunds. Damaged goods also give a negative impression of your brand.
So, to avoid disappointing customers and denting your reputation, packaging has to be protective. Having said this, with greater awareness of sustainability, consumers also resent excessive packaging. Yes, you need to protect the goods during handling, but going overboard has financial and environmental costs. For these reasons, the choice of packaging for e-commerce has to be informed and suited to the products.
Another consideration for online retailers is that the packaging has to be easy to store and straightforward to assemble. Small details such as sealing strips aid packing line efficiency, whilst tear strips simplify opening for the customer. Finally, e-commerce packaging is one of the few touch points between brand and customer. It provides a hands-on connection and a first impression. It is all part of the shopping experience, so what message do you want to share when the delivery is received? Does your packaging fit with your brand values?
The Pros & Cons of Mailing Products
To help you find the best fit for your packaging requirements, we explain the pros and cons of our range. Let's start with the most popular mailing product; the cardboard box.
Cardboard mailing boxes
Pros – Corrugated cardboard is robust, durable and cushioned, making it an ideal packaging material. It can be cut to fit almost any product and there is a range of standard boxes which are widely used for deliveries. Corrugated cardboard is partially made from recycled fibres and can be recycled after use. Cardboard boxes are also stackable, which is advantageous in a van full of deliveries.
Cons – Cardboard boxes are typically supplied flat pack so they take up less space in storage. This means they have to be assembled as part of the packing process. Inserts or void fill materials are often required to prevent products from moving about in the boxes.
Cardboard mailing tubes
Pros – Ideal for cylindrical products and items that need to be rolled to avoid creasing. Strong, recycled and recyclable packaging solution. Check out our recent blog for further information on cardboard tubes.
Cons – As tubes can't be flat packed, they can present a challenge if storage space is limited. They also tend to roll on packing tables and in delivery vans, although triangular tubes are available if this is an issue.
Cushioned Mailer Envelopes
Pros – Lightweight with built-in protection these are a practical solution for shipping small, slimline and delicate items. Sizes from A6 to A4 can usually fit in the large letter category for postal deliveries, which can cut shipping costs. This also means that they can be posted through standard letterboxes, which is convenient for customers.
Cons – Mailers are often made from paper outer and plastic bubble wrap inner, which can't be recycled. There are 100% paper-based mailers and other recyclable options, so, if this is a priority, check before ordering.
Polythene Mailing Envelopes
Pros – Non-fragile items, including clothing, soft furnishings and magazines can easily be packed into poly-mailers. These feature a secure sealing strip which will adhere to any part of the bag, so you can alter the size to fit the product inside. They add minimal extra weight or size to your package and require minimal storage space.
Cons – These are made from polyethene, a plastic which isn't widely recycled. There are some biodegradable options available which can be composted with food and garden waste. Textile items can bunch up, resulting in creasing and sometimes additional shipping costs.
Branded E-commerce Packaging
If you are looking for packaging suppliers, UK-based Barton Jones offers all of the above mailing options. We have standard sizes in stock and can create bespoke boxes to provide the optimal fit for your products.
Our advanced printing services can apply your logo, graphic, text and colours to boxes, tubes and envelopes. This is a marketing opportunity not to be missed; one that will help your brand to stand out from the millions of other deliveries. You can request a quote for custom e-commerce packaging on our website or call us on 01462 680888 for information on our mailing products.