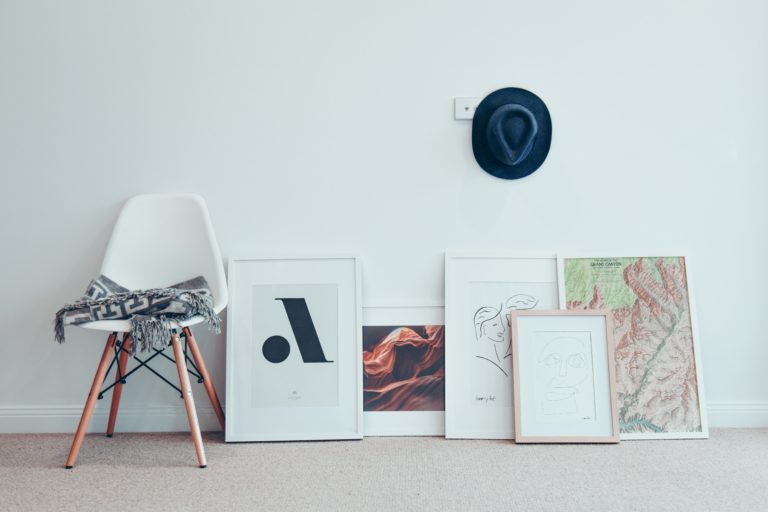 How to Pack Artwork for Posting
The finishing touch of interior design is often the paintings, photographs or mirrors you choose to hang on the wall. In this article, we explore where you can buy affordable artwork. We also recommend packaging that will protect canvases, frames and glass during shipping or transportation.
Wall Art and Interior Design
The images you hang on the wall are an expression of your personality. The artwork might remind you of an important place or person, it might be calming or energising. You might simply love the use of colour, line, texture or light.
Artwork is often considered the finishing touches of a room, however, a My Move article*suggests choosing art as the starting point. Their advice is to use the colours, theme and tone of the image to inspire the interior style. Select dominant or highlighted colours from the artwork to inform other features of the room, including wall paint, soft furnishings and decorative detailing.
Larger-scale artwork, or that with bold colour and form, is often a focal point of the room. As an example, many people hang framed art over the fireplace. Alternatively, a mirror might be hung to reflect and optimise light and enhance the sense of space.
A contemporary feature in interior design is the gallery wall. This involves hanging a range of smaller pieces of art and when it is done well, it can look spectacular. The occasional change of a few images can update the look as required, helping it retain a timeless appeal.
A gallery wall includes art in a variety of sizes and can take a bit of planning to arrange a strong layout. Arranging on the floor first enables you to chop and change things before committing to handing them. The pictures can be quite random, but a loose theme or colour can help to deliver a sense of cohesion. Pinterest has plenty of examples of gallery walls** which could inspire your interior design.
Where Can You Buy Affordable Art?
Unless you are a wealthy collector, travelling to the world's prestigious auction houses to bid on a masterpiece is not necessary. It is best to stick to paintings, prints and photographs which you love. What holds meaning to you and will add personality to your home?
Even with a limited budget, there are places to purchase original art at affordable prices. Why not start with a visit to local art galleries? In our town of Letchworth, we recommend a trip to Norton Way Gallery, Broadway Gallery and The Wynd Gallery. What's on your doorstep? Gallery owners are usually well informed about the artists and can offer advice on hanging. A close-up view also means you also get to see the colours, textures and scale of the artwork first-hand.
Other great options are to go to art college exhibitions and discover emerging artists or see what work is displayed at local art events. You can also find online art sellers and might even spot the perfect painting in a charity shop!
Artwork Packaging Boxes
Once you've made a purchase, the next challenge is getting your artwork home in one piece. Shipping or transporting framed pictures, mirrors, photographs and prints is tricky. Without the right protection, they can easily get damaged. So, having made a purchase, it is best to have a specialist box for shipping artwork.
Fortunately, packaging for picture frames is an area we have expertise in. Barton Jones Packaging supplies galleries and photography studios with artwork packaging boxes. These are designed to offer additional protection and are made from robust, double-walled corrugated cardboard. This packaging material is naturally cushioning and is a great solution for artwork boxes.
Are you an artist, photographer, gallery owner, art student or online art retailer, with a requirement for picture frame boxes? UK based and responsive to customer requests, we can supply what you need.
Our artwork boxes are unprinted and come in a variety of sizes to provide the best fit. We hold stock, so supplying small volume orders in multiple sizes is not a problem. A quick turnaround on orders is all part of our great customer service. Contact Barton Jones Packaging on 01462 680888 or [email protected] for further information.
---
* https://www.mymove.com/home-inspiration/decoration-design-ideas/wall-art-matters-interior-design/
** https://ro.pinterest.com/didi_kasa/interior-design-gallery-wall/