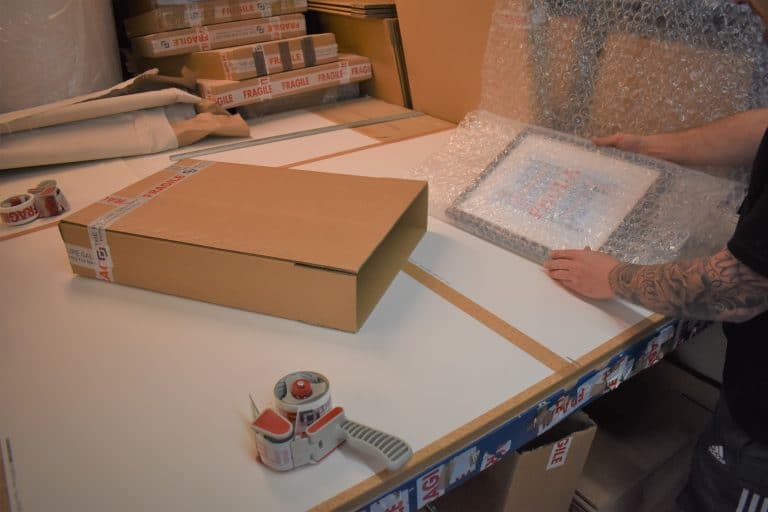 Efficient Packing Line for E-commerce
With customers expecting a quick turnaround on all purchases and time costing you money, an efficient packing line is essential. It offers a simple way to lower business costs and improve customer service. So, whether you run a start-up enterprise or an established e-commerce shop, what steps can you take to aid fulfilment?
In this article, we share 5 steps to improve packing line productivity.
1. Plan How to Organise Packaging Supplies
The first step to packaging line productivity is to organise your packaging supplies. Whether you are operating from the spare room or a warehouse, you need to make the space work.
The packing team require a flat surface to work on, with all the packaging materials at hand when they need them. The less they need to hunt around for items, the quicker they can pack.
If your packers use bar code scanners, tape dispensers, scissors and other tools, provide them in sufficient quantity, so people aren't waiting around for someone else to finish.
Shelving is an effective way to optimise and compartmentalise the available space. Consider the size of each shelf to ensure a daily supply of packaging materials will fit with ease. Also, ensure that everyone can safely reach the highest shelves.
2. Consider Reducing Packaging Supplies
Some packing lines are inefficient because the packers need too many items at hand. Changes to your packaging design could reduce or remove the need for void fillers, sealing tape or boxes in every size.
Barton Jones Packaging can advise on interlocking boxes that securely close without tape, as well as custom packaging solutions that protect your goods without the need for void fillers.
Another consideration is printing information, messages, assembly instructions or promotions on the inside of the box. This cuts out the need for additional paperwork to be available and reduces per unit packing times.
3. Monitor & Restock Supplies
When you compartmentalise packaging supplies on separate shelves, it becomes easier to locate what's needed and monitor when things are running low. Restocking long before your packaging materials run out is a simple way to keep things moving. Did you know that Barton Jones Packaging offer stock holding and replenishing services to help you maintain supplies?
When you place your packaging order it doesn't have to be delivered in one go. We can supply you with part of the order in the first delivery, storing the rest in a clean and dry environment. When you need a top-up, your boxes are ready and waiting to be delivered.
As space and storage are challenges faced by most e-commerce business owners, our stock holding service is in demand.
4. Get Support with Fulfilment
Your business may be at the stage where you could use some extra help with order packing, but you are not yet ready to outsource operations to a fulfilment company. Is there a middle ground?
Yes, there is; it's our packaging assembly service.
We usually supply packaging flat packed, however, our packaging assembly service can speed up your packing line. This service involves us assembling your custom boxes and delivering them to you ready to be packed.
Assembled boxes and just in time delivery can be especially useful in peak seasons or to support your e-commerce business as it scales up.
5. Use Data to Plan Ahead
Use available data to track the frequency of orders and spot patterns; a time of day or particular months when orders increase. Out management reports can also be valuable for planning ahead, ensuring sufficient resources are available to get those orders out on time.
In the same light, consider packaging and fulfilment when you plan marketing campaigns. If the drive interest and conversions, you want to make a great first impression by meeting customers' delivery expectations. Will this require additional packaging supplies, in-house manpower or outsourced services?
Finally, keep in touch with your packaging supplier, so you have current information on lead times. This information can also inform the best time to order boxes for seasonal or promotional peaks.
Hertfordshire Packaging Supplier
Barton Jones Packaging is a trusted UK supplier of packaging materials. We assist e-commerce SMEs with practical advice and packaging solutions, including stock handling and box assembly services. To find out more, please contact our team on 01462 680888 or [email protected]